This $1,000 award is available to all seniors who are members of an active chapter of CSF.
To apply, student must write an essay in response to the following prompt:
""In what specific ways has your involvement in CSF enhanced your appreciation of the intrinsic values of scholarship and service?"
Please submit your response to the prompt using this form by December 22, 2013.
The winning essay will be selected by a committee comprised of California Scholarship Federation Board members. Essays will be evaluated on the basis of (1) relevance to the prompt and (2) quality of writing. Failure to comply with any of the above rules will result in automatic disqualification. The winning student and his/her adviser will be notified by the selection committee by mid-February.
If you have any questions, please feel free to email the CSF Central Office
ABOUT GLENN MICHELSON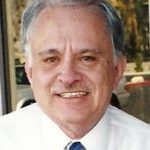 Glenn Michelson (pictured right), a beloved member of the CSF family, was a strong advocate of service to our communities. A math teacher at Sequoia High School in Redwood City, Glenn served for over 20 years as the chapter's CSF adviser. He spent several years as a member of the CSF/CJSF state board, serving as regional vice-president, CSF registrar, historian, legislative chair, and state president. He led by example and continually promoted the CSF motto of "Scholarship for Service." Upon his death, Glenn bequeathed funds for this award to recognize students who also have a passion for service.