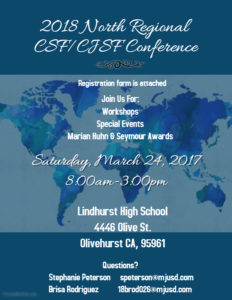 Lindhurst High School Presents: "Adventure Around the World"
CSF/CJSF North Region Conference 2018
Saturday, March 24, 2018
Lindhurst High School is both honored and excited to host this year's North Region CSF/CJSF conference, "Adventure around the World"! Our theme will integrate culturally diverse workshop options, international service opportunities and an international lunch that showcases the diversity of cultures of the students at Lindhurst High.
CSF conferences are the most economical way to expose your students to interesting topics, important college information, and networking opportunities. They are also a great opportunity for younger students to witness the service and academic accomplishments of the Huhn and Seymour nominees and recipients as a model for their own futures.
Our campus is conveniently located 40 minutes north of Sacramento and we are super easy to find.
We will be accepting registrations up until March 14th so that we can best plan for all that attend. Don't hesitate to contact me if you have any questions.
I hope you all join us!
Stephanie Peterson
Activities Director
CSF Advisor
Lindhurst High School
Registration Flyer and Form
Where: 446 Olive Street, Olivehurst, CA 95961
When: 8:00am to 3:00pm March 10th, 2018
Cost: $25.00 per person
No refunds after March 14th.
For any questions regarding the conference, please contact Stephanie Peterson speterson@mjusd.com or Brisa Rodriguez 18brod026@mjusd.com | (530) 913-3032